Phagila is a small spiky gourd that looks more like bitter gourd. Generally grown in forests, the name in Kannada, Kaadu Hagalakai exactly conveys that.  Locals harvest the vegetables from forests, mostly during monsoons and send it across.
Kantola as it is called in Hindi, though is from the bitter gourd family, it does not have the bitterness. It has a rough texture inside with seeds that become crisp and crunchy after deep frying.
Phagila Podi
Teasel Gourd fritters is not just a food for Konkanis, but it is an emotion. Since they are available during monsoons, the climate makes it perfect to have it for lunch or tea time.
Ingredients
About 500gms Phagila
2 tbsp Red Chilli Powder
2 tsp Coriander Powder
1/4 tsp Powdered Hing
About 2 marble sized balls tamarind
Salt (of course)
1/2 cup rice flour for coating
Method
Soak the tamarind in 2 tbsp of water and keep aside until you are able to extract a thick juice.
Wash the Phagila well, drain off excess water and cut the ends.
Cut into thin slices vertically.
Transfer the tamarind juice into a bowl, Add the coriander and chilli powders, Hing, Salt. Make a thick paste out of it.
Apply this paste to all the slices of the phagila slices.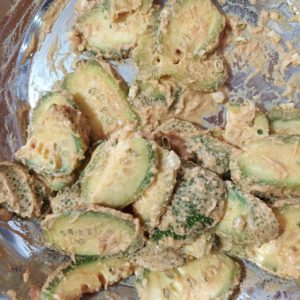 Spread out the rice flour on a plate and coat each slice on both sides.
When the oil is hot gently slide the slices one by one. Allow the slices to fry until they are slightly brown and flip.
Fry until golden brown on both sides, take them out and spread on a kitchen paper towel.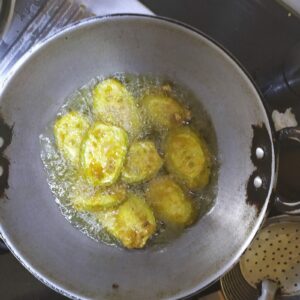 Serve hot for lunch or have it during tea time.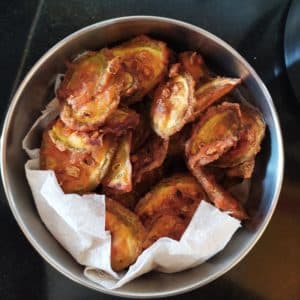 Boring to read through? View the video here.