Umadi Chutney Powders
Umadi Foods originated in Bijapur, Karnataka, in the year 1969. Bijapur is known for its Spices and Masalas which were brought in by the Adil Shahi rulers and also cultivated by the locals. There is also an influence of the neighbouring state of Maharashtra on their spice cultivation and traditions. Umadi has been producing and selling Spices and Masalas for over 4 decades now and is very well known for its products. Even today Umadi's follows age old traditions to blend Masalas and Spices – this way they retain the natural flavour and aroma.

Agasi Chutney
Agasi (Flax seeds) chutney is a very common condiment in North Karnataka. Usually served with curd rice or dal rice, it adds a wonderful flavor to any dish. Umadi Foods brings to you the Agasi Chutney which they make with roasted flax seeds and flavor with spicy Byadagi chillies to bring out a hint of sweet and sour flavor.
Garlic Chutney
A beautiful, bright red chutney made with garlic and the spicy Byadagi chillies, brought to you by Umadi Foods. This chutney is a wonderful accompaniment for bhajjis, vadas and even goes well as a sprinkle of spice on simple rice and dal. This fiery also brings you innumerable health benefits of garlic – packed with antioxidants, antibacterial and anti-fungal properties.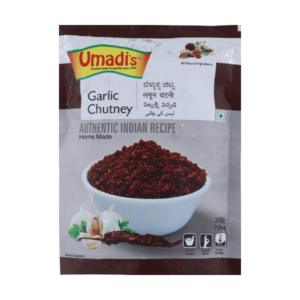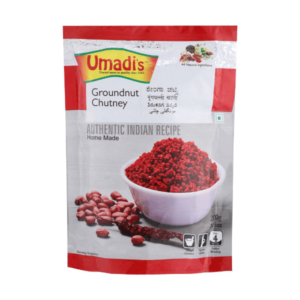 Groundnut Chutney
Shenga Chutney or groundnut chutney as it is known is a popular accompaniment for roti, idlis, dosa, vadas and bhajjis. It is a delicious condiment which has a great crunch and flavor. Umadi Foods bring you the Shenga Chutney for you to enjoy with your family. Make breakfast time more fun with this condiment in your kitchen.
Gurellu Chutney
Gurellu Chutney is made with niger seeds, in Kannada known as Gurellu and Khurasni in Marathi. Umadi Foods brings you this wonderful, flavorful chutney. A spoonful of this is sure to enhance even the simplest of the meals. Tasty, spicy and full of flavors. Gurellu chutney powder added to yogurt and with ragi rotti / jowar rotti / rice bhakris make for a delicious combination.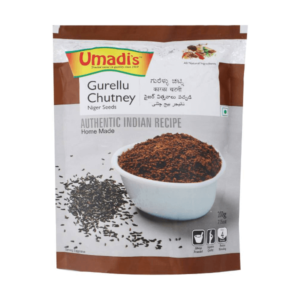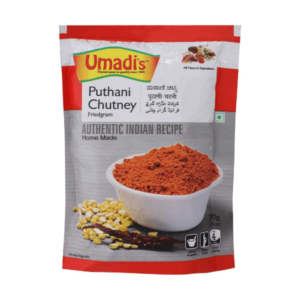 Puthani Chutney
Puthani Chutney refers to chutney mode with roasted channa. Umadi foods make wonderful spice mixes and chutney using age old traditional methods to bring you the perfect flavors. The Puthani Chutney is made with Roasted Fried Gram and spiced with spicy Byadagi chillies, garlic and salt. This chutney works very well as an accompaniment to idli, dosa, rice and dal or even a substitute for pickles in your meal.