What is Jeeni Health Mix?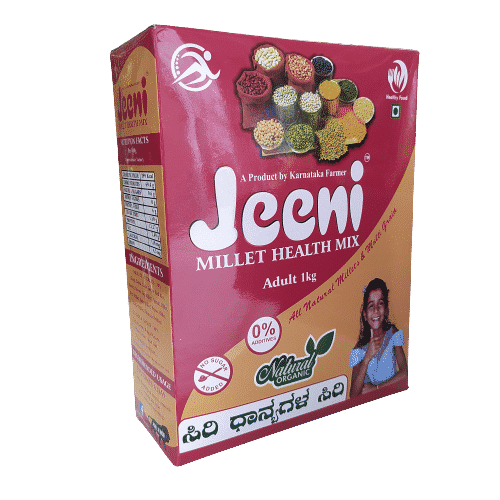 Jeeni Millet Health Mix is one of the best natural health supplements you can take to improve your overall health and wellness, thanks to its quality ingredients that are 100% natural, safe, and effective.
It is a gluten-free, nutrient-rich mix made from millets and cereals. There are over 24 different ingredients in this mix that are free from synthetic or artificial colors, free from preservatives, and free from added sugars.
This article explains why Jeeni Health Mix works so well to improve your overall health in ways that you might not have expected—and also how you can take it in the easiest way possible for maximum effectiveness.
Why Jeeni Health Mix is good for you?
Millets are high in minerals, low in fat, packed with soluble fiber which helps lower cholesterol levels. Unlike other grains that contain gluten, millets are naturally gluten-free so they don't cause any of the gastrointestinal discomforts that have been linked to other grains. They also have a high mineral content including calcium, magnesium, and iron. This can be especially helpful for vegetarians who may not get enough of these nutrients in their diet otherwise.
Proteins provide strength, carbohydrates and healthy fats provide energy to the body. Natural vitamins and minerals help build immunity. Fibers help in keeping the digestive system healthy. For those looking to lose weight, they aid digestion by keeping blood sugar stable and under control. A great alternative grain for those allergic to corn or wheat, millets make a great addition to your morning routine!
What are the Ingredients?
Jeeni Millet Health Mix contains about 70% Millets and Cereals like
Ragi (Finger Millet)
Bajra
Corn
Jowar
Red Rice
Barley
Brown Top Millet
Foxtail Millet
Pearl Millet
Kodo Millet
Proso Millet
Little Millet
Barnyard Millet etc.
The rest contains Pulses, and Grams like
Green Gram
Bengal Gram
Horse Gram
Urad Dal
Flax Seeds
Fenugreek
Ground nuts
Soya Beans
Tur Dal etc
How does Jeeni Millet Health Mix help?
Jeeni Health Mix is a great-tasting powdered drink mix that promotes overall health for people of all ages. With a mix of essential vitamins, minerals, antioxidants, fiber—this unique blend has been designed by our forefathers and passed down generations as an age-old tradition to work with your body's natural functions. In addition to boosting energy levels and immune health—it can help balance cholesterol levels while promoting colon health. Each serving size (about 2 tbsp) contains only 60 calories, so it's ideal for anyone who is managing their weight. Jeeni Health Mix helps
Improve bones
Improve Muscles and their functioning
To improve your immunity
Maintain fluid and electrolyte balance
How to use Jeeni Millet Health Mix?
There are numerous different ways to use Jeeni Health Mix. One is as a replacement for the early morning coffee or tea. It can also be taken anytime throughout your day when you want extra nutrition without having to eat an entire meal or snack.
Follow these three simple steps for a quick and healthy way to eat.
Mix – Take two tablespoons of Jeeni Millet Health Mix, add about 250 ml of water or milk, and mix thoroughly. Make sure no lumps are formed.
Cook – Bring to a boil – Stir constantly to avoid lumps, cook for approximately 5 minutes
Serve – Add salt and jaggery according to your taste and serve warm.